Classical Concert Season
Elstree Mozart Players – Classical Extravaganza
November 2018
Elstree Mozart Players lead by Lucy Cumming, conducted by Derek Holland performed an amazing concert in Allum Manor and Hall in November 2018.
The concert, organised by the Rotary Club of The Studio of Elstree and Borehamwood was truly fabulous, and fantastic - a truly magical evening of high calibre music.
The programme was well chosen with something for everyone. The Orchestra would have been at home in a prestigious London venue. Janice Watson, soprano, was magnificent.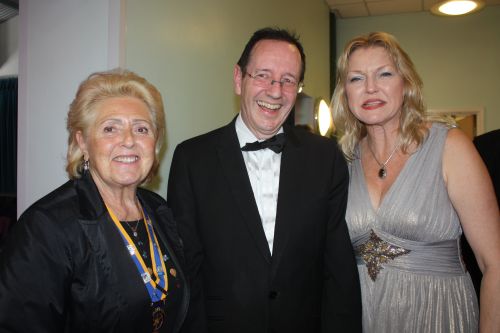 Studio Rotary Club President Sandra Parnell captured the mood exactly. 'The music lifted the soul and entered your heart, a truly moving experience which absolutely must be repeated', adding 'It was just overwhelming, what a privilege for our town to host such a performance.'
Thanks to the Studios Rotarians who helped during the evening and to Allum Manor Trustees for their forbearance.

President elect Nick Male took a major role looking after two dogs for the evening I think they looked after him.
Vice President Sasha Capocci ensured the refreshment for nearly 200 people were served and that the kitchen was restored ready for the NSPCC the next day.
The Studios Rotary Club, 'Music in the Woods' organising committee included: Derek Holland, Andrew Grady and Pat Strack.
Look out for more planned concerts in future.

The next planned concert is on Sunday 16th June 2019, Civic Festival Concert, All Saints' Church, 94, Shenley Rd, Borehamwood.
Concert to include:
Rossini Barber of Seville, Chaminade Flute
Concertino, Saint Saens Cello Concerto 1,
Elgar Salut D'Amour and Beethoven Symphony 5