Club President 2020-22

Victor Eni
Club President for 2020 - 2022 is Victor Eni.
Victor has lived in Elstree and Borehamwood for over twenty years. He is the past Mayor of Elstree and Borehamwood (2018 - 2019), currently Hertsmere Borough Councillor and Elstree and Borehamwood Town Councillor.
Victor is married to Martine and have three children.

Victor is a member of many charitable and social organisations such as being a Trustee for the Elstree and Borehamwood Unity Network which each year, since its inception in 2018, has organised an annual Diversity Festival in Borehamwood.
The festival was the brainchild of Martine and Victor, and celebrates the vibrant cultures in Borehamwood encouraging dialogue between communities through art and music not to mention delicious food.

Past President
Nick Male BA, PGCE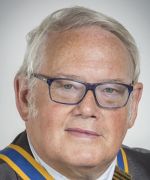 Nick is a retired teacher who was born in Plymouth, Devon, His family moved to Boreham Wood in 1954.
George Male, his father was a very active Rotarian. Kay, his mother, was an Inner Wheeler. Nick is a former national chair of the Teachers' Benevolent Fund. He has been involved in the world of folk music for forty years.