Rotary International
The club connects with other Rotary Clubs both in the UK and overseas. Any club member is able to visit any club throughout the world to meet and make new friends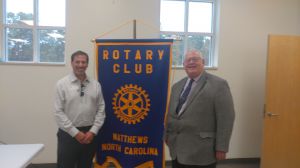 The Studio Rotary Club has during the pandemic been able to connect with clubs around the globe. Rtn. George MacGregor has a connection, via his cousin Chris, with Merv Ericson, a member of the Rotary Club of Mannigham (25346)
George arranged for a pennant to be sent out to Australia when Chris visited the Manningham Club.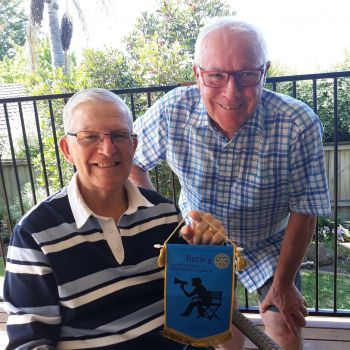 The above image shows the presentation of our pennant to the Merv, (left) with Chris (right).
Merv has visited the UK back in 2007. It was the Involvement of a Team Leader of a group study exchange visit from the 23rd September to the 21st October 2007. He led a team of four members on the exchange, which was a Vocational and Cultural experience, during their tour the team visited approximately 15 Rotary Clubs and where individually home hosted by the Rotarians and their families.
Merv and his wife Kay, made long lasting friends whilst in London, with Michael & Debbie Hodge, John Perrett and Sue Jessell.
While here they made a Presentation on Rotary Australia to all the clubs they visited.
The GSE program also involved inviting a reciprocal tour from London to Australia, that took place from the 9th February 2008 to 11th March 2008, with their Team Leader Mac Purcell.
Merv, a Rotarian for 23 years, District Governor of District 9801, 2013-2014. He was selected as the Rotary International Presidentís Personal Representative to Olongapo City, Philippines, as keynote speaker for their District Conference in 20/04/2018 to 21/04/2018.
In return Chris was given a pennant from the Manningham Club to send to the Rotary Club of the Studioís of Elstree and Borehamwood.
The below photo shows George MacGregor presenting this pennant to our club president Victor Eni, when it arrived from Australia in early December 2020.