Our Club
We are The Rotary Club of the Studios of Elstree and Borehamwood. Our aim is to make new friends and use that friendship to improve our community.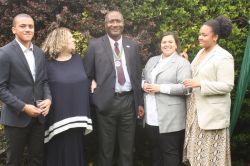 Why not have fun and make new friends by joining men and women in more than 1,800 clubs in Great Britain and Ireland? You can help improve the lives of those less fortunate both locally and internationally.
We meet twice a month for a lively and fun early-evening meeting.
We have all sorts of interesting speakers and the meetings never last more than an hour. Some of us stay for a drink afterwards , but we recognise that everyone has busy lives.
Rotary is a major international service organisation. We have 1.2 million members in over two hundred countries.
Anywhere you travel, you will find a Rotary Club , where you will be received as a welcome visitor. You don't have to be a wealthy person and you don't need to be a saint.
All you need is to enjoy the company of like-minded people and to want to make a difference.
The work of the Studios Rotary Club has been officially recognised by the organisation's International President.
Delegates to the recent London District Conference of Rotary congratulated Studios members on their impressive programme of achievements.
These include creation of a scheme to help autistic children. This is to be a joint project with the Rotary Clubs of Herzliya and Modi'in in Israel.
The club has also undertaken many other different projects in the last twelve months, such as a Keep Britain Tidy clean-up day, and run a virtual quiz night to raise funds for the mental health charity 'MIND in Hertfordshire'
Also highlighted were a series of virtual concerts, featuring dozens of talented local children.
Victor Eni, President of Studios Rotary, received the citation on behalf of all the officers and members, commented that he is 'proud to be the president of talented Individuals who work for the benefit of our local community and further afield.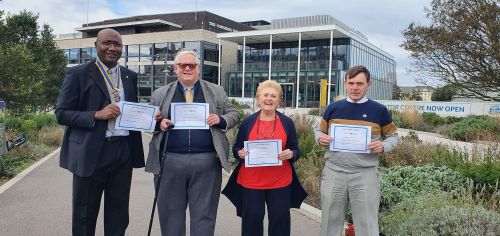 Now the club looks towards a bright future, inspired by Rotary's motto of ' Service Above Self'.
The next club event is on Sunday 5th June to celebrate the Queens Platinum Jubilee. Its a collaboration event including many different community and regulatory authorities from around Elstree & Borehamwood.