COVID-19 Virtual Events
The Studios Rotary Club of Elstree and Borehamwood presented in conjunction with Elstree and Borehamwood Town Council during the COVID-19 crisis.
The first, staged on Friday 8th May a 'live video presentation', in partnership with Woodcock Hill Village Green.

A video commenced at 2.45pm on Friday 8th May and presented to help the general public celebrate the 75th Anniversary of V.E. Day. The video included a reading of the exhortation, by Tony Wass from the Borehamwood branch of The Royal British Legion. Commentary for the event will be provided by Nick Male, President of the Studios Rotary Club of Elstree and Borehamwood.
See separate page which has link to the video presentation.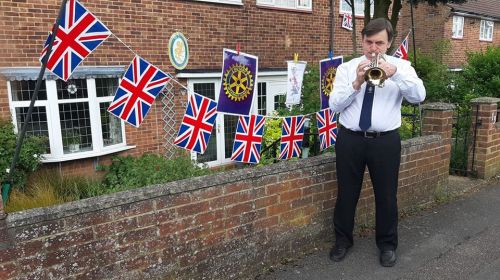 Andrew Grady performed the last post, whereas George MacGregor played the Battle's Over and VE75 to mark this solom occasion.
Both are members of the Studios Rotary Club.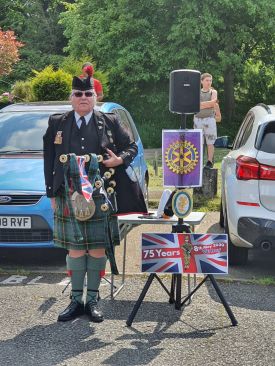 On Saturday 20th June the club presented a 'Virtual Mid-Summer's Day' concert featuring local artists to bring some cultural entertainment for all to enjoy.
See separate page which has a link to this video presentation.
Both events were compered by the club president Nick Male who was pleased that the club could, through the technology available engage and entertain our community, bringing some resemblance of normality during these difficult times for us all.
Both events were presented by the clubs publicity team which included Samuel Covil, Karren Fielding, Andrew Grady and Pat Strack.
The club are also grateful to Rosemary Wiseman, Derek Holland, and Alan Duguid for organizing some of the performers for this event.
We would also like to thank 'The Torpedo Factory Group Ltd'. for providing the web streaming facilities for both events.